Hot Off the Press

We've found what we consider the best books in several different areas of teen culture and included a short review of each. It's not meant to be an exhaustive list, but rather a starting place for you to explore the lives of teenagers.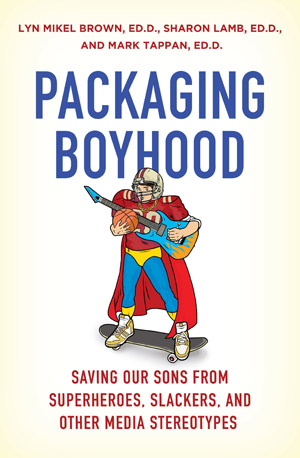 Lyn Mikel Brown, Sharon Lamb, and Mark Tappan
 There is a lot of talk today of girls being bombarded by media that influences their body image. But what about the boys? In this ground-breaking book the other side of the coin is finally addressed. This is the best book on I've ever read on the role of media and marketing in the life of a boy. William Pollack, author of Real Boys, says, "Unlike other parenting or 'boys books,' it reveals that boys do not naturally or biologically like violent images, don't have to do poorly at school; but rather that a bath of hurtful media images are overtaking them – and that you can help save them…" While being both fair-minded and practical the authors strip back the layers of marketing schemes and help you think critically about the role models of pop culture from cartoons, to video games, to celebrities. In the end, parents are given steps they can take to foster positive development in their boys and help their boys to look at themselves as a whole person instead just of a mound of testosterone and muscles.
Ted Cunningham
What do a street skater, recording artist, hair stylist, graphic designer, and reality show star have in common. They are all living relevant lives within their circles of influence. This small but packed book contains 70 profiles of ordinary people living their lives in such a way that others are following and being impacted by them.
The book features stories of current celebrities, like John Foreman of Switchfoot and Emanual Smith of the NFL, but most are regular people like you and me. If you are a person who is trying to live out your faith, not in a churchy, campy, fashion, but in a way that makes people question their own lives, then you'll love this book. This is an encouraging book for your high-schooler to read to help them see what faith in action looks like.
Leslie Leyland Fields
When kids hit adolescence many parents take an inventory of their family. Many times that inventory leaves parents feeling depressed or concluding they are a failure. It's because we gauge our effectiveness or worth as a parent on all the wrong things. In Parenting is Your Highest Calling: And 8 Other Myths that Trap Us in Worry and Guilt, author Leslie Leyland Fields shows that our feeling like a failure as a parent comes from us believing the wrong things. If you are looking to be set free from the cycle of fear and doubt, then you need to pick up this gem.
Brian Godawa
A movie is an incredible medium for letting others explore fantasy worlds, imagine an intimate romance, or walk through a period of history. While there is plenty of fiction and fantasy in movies, there is an equal amount of info conveyed as reality. The belief system expressed in a movie is typically an overflow of the worldview of the director or writer. In Hollywood Worldviews, Godawa teaches you to watch movies with a critical eye – to listen and see what beliefs are being conveyed and how they shape our lives and culture.While the author has his own belief grid through which he is interpreting the films, it does not come across as heavy-handed. Insightful and useful for those working with students in the arts or communications.
Dr. Kara Powell & Dr. Chap Clark
This is the most practical book I've ever read of understanding the faith of teenagers. As a parent, this is a must read. Unlike many parenting books, the conclusions and action steps here are both practical and doable.
Every year thousands of teenagers make the trek to start college. As they embark on one of the greatest transitions in their lives, they say "good-bye" to their high school friends, youth groups events, and their faith. According authors Dr. Kara Powell and Dr. Chap Clark between 40-50% of regular attenders of youth group will fail to stick with their faith or connect with a faith community in college. Further their study showed that a key factor in a teen's long-term faith connection is the degree to which the teen's parents live out and walk in faith with him. This is just touching the surface of all the goodies they get into in this incredible work.
Patricia Hersch
Have you ever wished you could be a fly on the wall in a high school, or locker room, or party? That's exactly what Patricia Hersch was able to do. She spent three years following the lives of eight students in Reston, Virginia.  The stories she tells and insights she gained are both fascinating and frightening. It is her conclusion that teenagers live in "a tribe apart" because adults have given over responsibility and pulled away from them allowing them to delve into unhealthy behavior and lifestyles. This is the most insightful book I've ever read on the inner world of adolescents. The stories are so real that it's tough to read, but you'll be glad you did.
Alex & Brett Harris
Every generation of teenagers gets labeled as being the worst ever. Words like lazy, cynical and greedy flow easily from our lips to describe them. Alex and Brett Harris are out to dispel this myth being sharing inspirational stories of teens and young adults who are making a difference in the world.
With faith in Christ as the foundation, the Harris brothers write a field manual of sorts for young people to use to help them arrive at how God wants to use their lives to reshape the world. If you haven't given this to your high-schooler or recent graduate, you should go grab a copy today. It just might spur something great in them.
Kristen White
My daughter asked me if she could take a gap year after high school to participate in the The World Race. I responded, "Heck yeah!"  A Gap Year, or "foundational year" is a period of nontraditional education in which an incoming student takes the opportunity for community service or cross-cultural immersion. Many students use this time to volunteer in a six to nine month missions program in another country, assist with urban planning in a developing country or to do an internship with a company or the government.
In her book The Complete Guide to the Gap Year, Kristen White gives compelling reasons for why a gap year could set your graduate on a path to succeed in college. Book includes lists of available scholarships and programs as well as how to set goals to get the best use out of a gap year.